Tuesday,November 5, 2007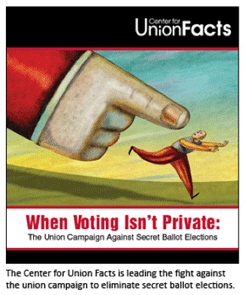 Source: Spotlight from Townhall.com

Unions' Power Grab Threatens Democracy, Funds Left
Did you know that the radical Left and its labor union allies have a scheme to dump billions of new money into political races in support of left wing candidates?
Their plan is to end the requirement for secret ballots in unionizing elections and to substitute a process called "card check" that would let union organizers intimidate and coerce workers into joining a union by signing cards publicly, instead of casting ballots in private.
Union leaders like Andy Stern are crowing that "card check" will mean "unions will grow by 1.5 million members a year, not just for five years but for 10 to 15 straight years." That's why organized labor expects up to $5 billion in new forced dues as unions organize thousands of additional workplaces.
This windfall will provide labor and the far left with unprecedented political resources and power. The federal government will grow, taxes will rise, social entitlement programs will swell, and free-market policies will be eliminated.
In 2007 unions successfully passed a "card check" law through the House and convinced a majority of Senators to vote to eradicate workplace democracy. Only the threat of an extended filibuster stopped their drive in the Senate. But the unions expect to have enough Senate votes after the 2008 elections.
But there is good news. When asked which system they prefer, the public overwhelmingly chooses secret ballots over "card check" (78%-12%). Yet few Americans are aware of organized labor's back room lobbying that threatens to push "card check" passage in early 2009.
Unless the public hears about this potential hijacking of democracy in their workplace, they won't object to it. And they need to hear about it soon and often.
Investor's Business Daily notes, The Center for Union Facts is leading the fight against this power grab by the far left. We are conducting a national campaign to educate the American public. Please visit our website www.UnionFacts.com to learn more about our extensive research and national ad campaigns informing the public about the union assault on workplace democracy.